A recent bride-to-be who hired And We Danced DJ Entertainment for her wedding approached us with a very good question about custom song edits. This concept is worth bringing up to everyone. She stated that while she was thrilled to be planning her first dance and her father/daughter dance, the thought of spending over eight minutes on the dance floor as the focal point for two dances made her very nervous. Her question was, "Is there any way that these two songs can be shortened, other than just chopping the ends off?"
As this bride-to-be learned, And We Danced DJ Entertainment is very skilled and knowledgeable when it comes to custom song edits. Our expertise as both DJs and musicians embraces the concept that songs should always have a beginning, middle and end. Simply fading a song early to produce a shorter edit is an approach that is not employed by us, unless it is part of a live improvised mix. If shorter songs are requested for the dance floor as part of our event planning process, And We Danced takes the opportunity to establish the edits properly – with a beginning, middle and end to the song which are properly extracted and edited from the original song structure.
The fruit of our work was very apparent in watching this bride take the dance floor! Skillfully and properly crafted custom edits of the two songs reduced the total time that this nervous bride spent on the dance floor from eight minutes down to four minutes, providing her with much anxiety relief. As your wedding DJ or event DJ, And We Danced DJ Entertainment will assist with custom song edits for any event! While our work in this area primarily focuses on weddings, a great deal of custom song edits are used for other events, as well. Contact us today to get the process started!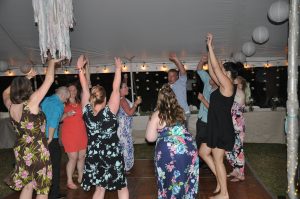 Custom song edits make the dancing more enjoyable!
All photos in this blog post by And We Danced DJ Entertainment. Copyright © 2017. All rights reserved.