And We Danced DJ Entertainment was proud to provide the right songs and music for Jen Berkebile and Erik Schmalz's spectacular wedding reception. Jen did not have a particular theme for the day, but she knew that poppies and ranunculus had to be the flowers of the day. She then chose colors that would work well with her choice of flowers. Jen wore a beautiful taupe dress, and her bridesmaids wore poppy colored dresses. The groom and groomsmen sported blue suits with poppy colored ties.
Jennifer Berkebile and Erik Schmalz met while in college at Duquesne University. They moved to the State College area to continue their education. Erik proposed to Jen in May, 2016. On June 2, 2018, Joe Jividen, friend and officiant, performed the wedding ceremony at the Rhoneymeade Arboretum and Sculpture Garden. Later, the party adjourned to the General Potter Farm to continue the celebration. And We Danced DJ Entertainment provided the music that had people dancing, singing and partying the night away. Lotsa Laffs Photo Booths was busy capturing the awesome fun and poses the guests were displaying that night.
Jen, Erik, family and friends were either on the dance floor or mugging for a picture behind the photo booth. Full Circle Farms was the fantastic flower artists of the day for both the ceremony and reception. Instead of cake, the couple chose apple, cherry, blueberry, shoofly, chocolate shoofly, rhubard and strawberry rhubard pies as the dessert of the night. They were made by Dutch Valley Bakery. That Kitchen Witch was the caterer for the reception. Ellen and her staff were also busy bees keeping the bountiful buffet line moving and enjoyable.
Thank you Jen and Erik for allowing And We Danced DJ Entertainment to be a part of your wedding celebration! It was very clear that day that Jen Berkebile and Erik Schmalz were meant to be!!!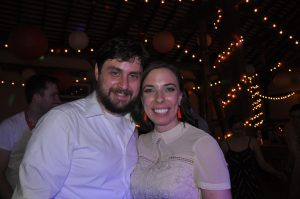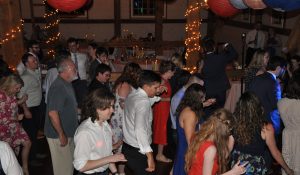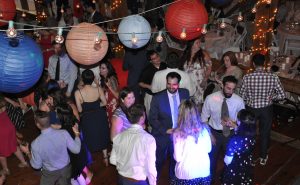 All photos in this blog post by And We Danced DJ Entertainment. Copyright © 2018. All rights reserved.