And We Danced DJ Entertainment had the pleasure of emceeing and DJing Jesse and Nikki's wedding reception at the Nittany Country Club on Saturday, October 7th. Nikki chose the colors navy and peach as the theme for her wedding day. Her bridesmaids, mother of the bride and mother of the groom wore navy blue dresses, while Nikki displayed elegance in her Brides of Today wedding gown. Jesse and his groomsmen sported lovely grey suits with peach ties.
Photographer Sarina Bower of Bower Shots was quick to capture all the joy and happiness of the day. Nikki's mom, Donna, created the beautiful bouquets, boutonnières and corsages for the wedding party and family members. Linda of the Nittany Country Club provided a delicious meal and awesome cookie tray for the guests. And We Danced DJ Entertainment inspired the happy couple, family and friends to dance to their favorite tunes. Guests had a hilarious time laughing, smiling and quickly posing with Lotsa Laffs Photo Booths BIG camera open photo booth.
Nikki and Jesse met at work, they bonded over their love for gaming and Pokemon Go and are now happily married. Thank you for the wonderful time And We Danced DJ Entertainment experienced with all of your guests on that beautiful autumn day. We wish the best of luck to you in the future. Enjoy your honeymoon trip to the beautiful Pennsylvania Poconos!
The Happy Couple!!!
Everybody Gettin' Down On The Dance Floor!!!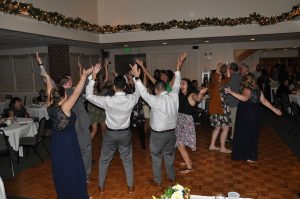 The Best Of Times!!!
All photos in this blog post by And We Danced DJ Entertainment. Copyright © 2017. All rights reserved.