And We Danced DJ Entertainment had a fabulous time celebrating the marriage of Michelle Jenkins and Mikel Umberger at The 903 in Middletown, Pennsylvania. Michelle's favorite color is hot pink, and Mikel's most-liked color is navy blue. They combined the two colors for their wedding theme and created a gorgeous atmosphere for all attendees.
Michelle wore hot pink shoes with her breathtaking white beaded lace wedding gown. She took her favorite color to heart and had a special hot pink petticoat made for under her bridal gown, and Michelle also wore a two inch hot pink ribbon around her waist to accent her gown. Mikel wore a navy blue suit for the day. The bride's mother wore a light pink gown with hot pink slippers, while the groom's mother sported a navy blue gown. Pastor Lee Hyman was the officiant for the ceremony.
The 903 ballroom was enhanced with blue and hot pink uplighting furnished by And We Danced DJ Entertainment. C&J Catering of the 903 presented a stunning array of hors d'oeuvre, a bountiful buffet and desserts for all to partake and enjoy during the wedding festivities. Shawn Green of FairyTale Reflections Photography was the photographer for the day. Kyrsten's Sweet Designs provided an enticing three-layered white carrot cake for the event. She also supplied a marvelous groom's cake in the shape of the Eagles Teal jersey, the groom's favorite football team.
Bridget Jensen of About Faces Caricatures was a busy bee drawing hilarious cartoon pictures of the bride, groom and guests. And We Danced DJ Entertainment provided the uplighting, music, dance floor lighting and emceeing for the night. Lotsa Laffs Photo Booths was on hand taking candid shots of the bride, groom and guests as they mugged for the camera with boas, hats, glasses, and various handheld props. Guests were having such a lively time behind Lotsa Laffs Photo Booths' BIG camera that night!
Thank you Michelle and Mikel for allowing And We Danced DJ Entertainment to be a part of your marriage ceremony and reception. Good luck in your new life as husband and wife!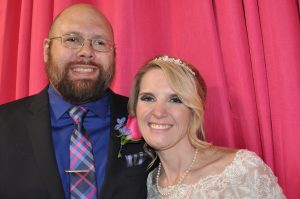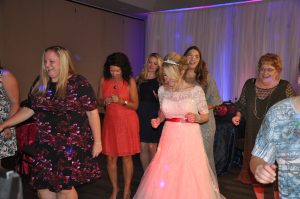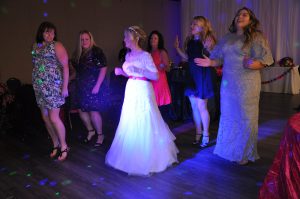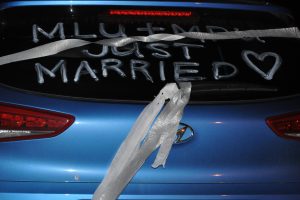 All photos in this blog post by And We Danced DJ Entertainment. Copyright © 2018. All rights reserved.