And We Danced DJ Entertainment recently had a terrific evening at the marriage of Emilee Szabo and Sean Concannon at the Atherton Hotel. And We Danced DJ Entertainment provided the sound and music for the ceremony and reception while Dominic Ferragamo was the officiant for the couple's wedding ceremony. The bride's theme for the event was navy blue accented with gold and coral. Her bridesmaids wore stunning navy blue dresses which were accented with beautiful coral bouquets designed by Woodrings Floral Gardens of State College. The bride wore a beautiful white gown for her walk down the aisle. The bride chose Amy Long Walker of Shear Artistry Hair Salon in Pine Grove Mills to provide the right coiffure for the day. Sean and his groomsmen wore dashing gray suits accented with navy blue ties and boutonnières.
Sean and Emilee began their night dancing to Kenny Chesney's "Me & You". Sue Reese, a friend of the Szabo family, made the beautiful cake and cupcakes for the bridal couple. The cupcakes were chocolate or vanilla with white or peanut butter buttercream icing accented with a white, sparkly candy heart and coral flower. Bob Lambert of Bob Lambert Photography was the photographer for the day. He could be seen capturing those beautiful moments between the bride, groom, family and friends throughout the night. Jessica Jacoby, Wedding Planner and Sales Manager of the Atherton Hotel, and her staff provided guests with an awesome and bountiful buffet featuring chicken, pork and cod. And We Danced DJ Entertainment provided the music, lights and emceeing for the night. Guests were constantly on the dance floor dancing to their favorite tunes. Sean and Emilee were consistently either talking to family and friends or dancing with each other on the dance floor.
Thank you Sean and Emilee for inviting And We Danced DJ Entertainment to be the entertainment and emcees for your wedding reception.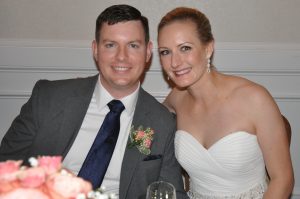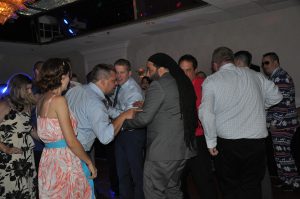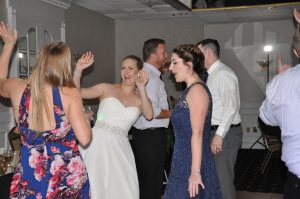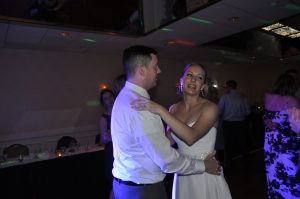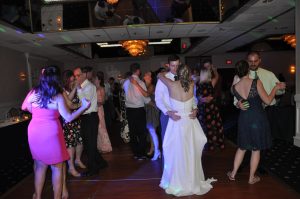 All photos in this blog post by And We Danced DJ Entertainment. Copyright © 2018. All rights reserved.