Pennsylvania's Special Olympians were recently in State College for their annual floor hockey event at the Ramada State College Hotel & Conference Center. Later in the evening, And We Danced DJ Entertainment was spinning the athletes favorite songs while they danced the night away. The dancing didn't start until 8pm that night, but the athletes could not wait to get inside the ballroom to begin dancing with their friends, family, coaches and Special Olympics staff.
Young and old were on the floor having fun. Lights were flashing while the athletes were doing the Cha Cha Slide, YMCA and the Chicken Dance. No line dance was missed that night. The kids were quick to kick their feet, raise their hands and shake their feathers to the classic tunes. It was great to see some athletes with their significant other slow dancing to some popular songs. They are AWESOME dancers! The Special Olympics staff were also dancing and singing along to their favorite tunes that night. No one was left out.
Before we knew it, the 10pm witching hour was upon us. All the athletes made sure to shake our hands before they left to get a good night's sleep. We told them to come say hello and request a song as we will be at the Olympic Village from May 31 thru June 2, 2018 playing songs to keep the athletes, families and coaches energized before and after their Summer Special Olympics events on the Penn State campus. If you have a chance, stop by the Olympic village between May 31st and June 2nd to see some of these terrific kids having fun dancing to their favorite tunes before heading to an event or even after an event.
This is the second year And We Danced DJ Entertainment has been the DJs for this event, and we cannot wait to be part of the 2018 Summer Special Olympics day events!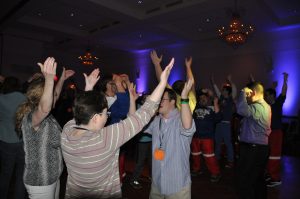 Everybody Get Your Hands In The Air!
Having A Dancing Good Time!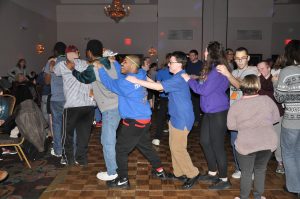 Party Train Time!
Having Fun Under The Colored Lights!
All photos in this blog post by And We Danced DJ Entertainment. Copyright © 2018. All rights reserved.