And We Danced DJ Entertainment had a fantastic night providing music for the Penns Valley High School 2018 Jr./Sr. Prom at the Mountain View Country Club on May 19th 2018. Family members were waiting in the Mountain View Country Club's parking lot to view the prom arrivals. The doors opened at 6 o'clock, and guests quickly entered the ballroom. The theme for the 2018 Prom was a masquerade. From this point on, guests were either dancing in their seats or on the dance floor.
The Prom committee spent the morning and part of the afternoon decorating the ballroom with balloons, table arrangements, lights, a HUGE candy bar and various other decorations. The Mountain View Country Club had a wonderful buffet meal ready for the guests with chocolate cake, red velvet cake or cheesecake for dessert. Each table held small jars for guests to fill with delicious candy such as Swedish fish, M&Ms and Hershey Kisses. The guests also had to vote for the 2018 Prom King and Queen.
And We Danced DJ Entertainment asked the crowd if they had their party shoes ready for the night. Many guests quickly showed us their sneakers and screamed they were ready to have some fun. The dance floor opened at 7:30 pm. From this point on, the guests quickly began to leave their seats and head to the dance floor. The floor remained packed with guests dancing for the remainder of the night. The guests also formed two party train lines during the night. Two young men were lifted and surfed the crowd. Who knew the nineties song "Shoop" by Salt-N-Pepa would have one young man dancing his heart out. The "Cupid Shuffle" and "Cha Cha Slide" also showed the great fun and dancing abilities of the guests.
At 9pm, And We Danced announced the 2018 Penns Valley High School Prom King and Queen. The 2018 Prom King was Carl Mundt, and the 2018 Prom Queen was Dayna Brown. They danced to Taylor Swift's "Today was a Fairytale." Journey's "Don't Stop Believin'" ended the wonderful night for the guests. They gave the Prom committee and chaperones a big rousing applause before we all said goodnight.
Thank you Penns Valley High School for allowing And We Danced DJ Entertainment to be part of your 2018 Prom!
We hope to see you next year!!!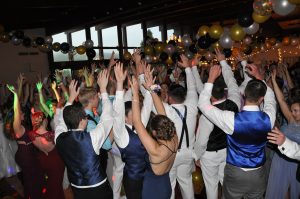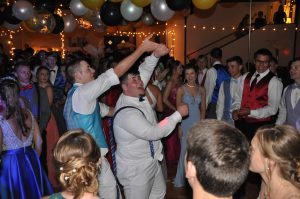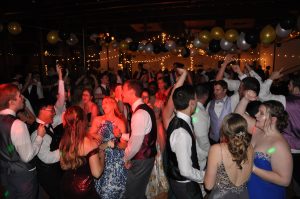 All photos in this blog post by And We Danced DJ Entertainment. Copyright © 2018. All rights reserved.