A couple met in line while waiting for their local Best Buy to open its doors on Black Friday. They got married the following year there! Another couple met while working at Sam's Club and decided to have their big day at Sam's Club followed by a reception in their snack bar area. This might seem like a joke, but brides and grooms are choosing to host their wedding and reception at very nontraditional venues. And We Danced DJ Entertainment has had the opportunity to serve couples in many nontraditional settings, but we haven't yet had the opportunity to provide sound, music, and lights at the local grocery store or tire service.
Many couples are deciding to ditch a normal setting for something that means more to the couple. Did you meet at a rock concert? Rent the venue for your wedding and reception. Meet at camp? Rent the camp for your big day. Many of these venues realize that a wedding is an important milestone in the life of a couple, and the couple will have a significant moment and memory in the nontraditional venue of their choice. Nontraditional venues are excited to work with couples to help make their day special.
Besides music and sound, why not add a special photo booth to the mix while marrying at your local food store! All would enjoy a great gift of a picture with the bride and groom in the nontraditional setting. It would be an event that will not be forgotten and dearly remembered in years to come.
So, if you met at the local pizza shop and spent time going to the eatery together with touching moments together at the shop, why not rent the place and hold your wedding inside! Pizza loving guests will sign your guest book while grabbing a slice of pizza and toasting your big day. Call, text or email today with your wedding date and nontraditional venue, and And We Danced DJ Entertainment will gladly enhance your special day!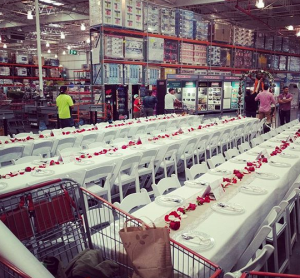 You Are Cordially Invited To Our Wedding – 3PM At Sam's Club!