And We Danced DJ Entertainment had a fantastic time celebrating the marriage of Ashley Thomas and Brandon Taylor recently in Cassville, Pennsylvania. Brandon and Ashley tied the knot on the Thomas' family farm. Dave Thomas was the officiant for the wedding ceremony.
The rain soaked soggy ground did not take away from the love and joy of the event. Family came from far and wide to celebrate the grand occasion. Brandon and other family members laid hay down to stop the sogginess of the grass interfering with the reception festivities. The hay was a lovely touch and created a floating atmosphere for dancing that night.
The bride and groom had a marvelous two-layer cake to cut and feed to each other. Brandon and Ashley were naughty and nice for the event. They feed each other a sliver of cake, and then Brandon added a touch of icing to Ashley's face as the naughty part. Guests were given a choice of white, chocolate, lemon, apple spice or peanut butter cupcakes.
The newlyweds had a homestyle buffet for guests to enjoy. Beef, chicken, and pulled pork were the choice meats with chicken nuggets added for the youngsters. And We Danced DJ Entertainment provided the ceremony sound, reception music, lights and emceeing for the day's events.
The new Mr. & Mrs. Brandon Taylor began the reception festivities dancing to Scotty McCreery's This Is It. Ashley could always be seen dancing with her son Mason or family members that night. There was a little rivalry occurring later in the evening between relatives when one donned an Ohio State sweatshirt and another wore a Penn State sweatshirt while awaiting highlights of the Penn State-Ohio State football game.
Thank you Brandon and Ashley for allowing And We Danced DJ Entertainment to be a part of your marriage ceremony and reception. Good luck in your new life as husband and wife!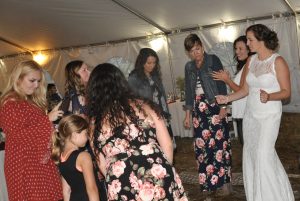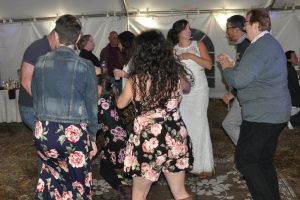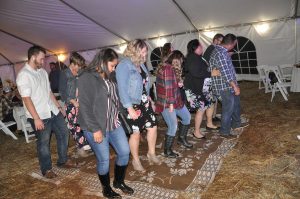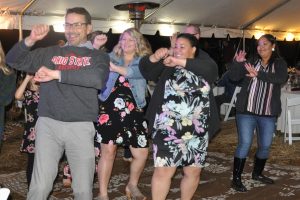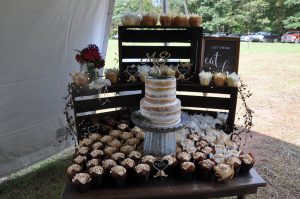 All photos in this blog post by And We Danced DJ Entertainment. Copyright © 2018. All rights reserved.