And We Danced DJ Entertainment had the honor of providing sound and entertainment for Nicole and Kenneth's wedding this past summer. Nicole Kirchner met Kenneth Hall at freshman orientation. Eight months later, they reconnected at a ballroom dance. On Friday night, June 23rd, Ken and Nicole walked down the aisle at the Arboretum at Penn State with Dan Ott as their officiant. Nicole wore a Kenneth Winston bridal creation for her special day, her bridal party wore purple Nicole's favorite color, and her bridal bouquet and flowers came from Deb's Flower Farm. Todd Douty of Times Eye Photography was on hand to snap photos of the happy couple, family, and friends.
Ken and Nicole then held their reception at the Mountain View Country Club with And We Danced DJ Entertainment providing the emceeing and music. They entertained the crowd with their ballroom dancing skills during their first dance with Norah Jones' Come Away With Me. Later, Ken and his mother, Courtney, wowed the audience as they tripped the light fantastic with Harry Connick, Jr.'s A Wink and A Smile. The dance floor remained packed with dancers until the very end.
Congratulations Ken and Nicole! And We Danced DJ Entertainment had an awesome time as their wedding DJs!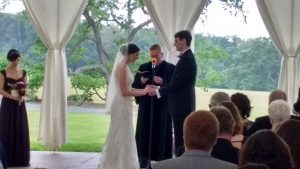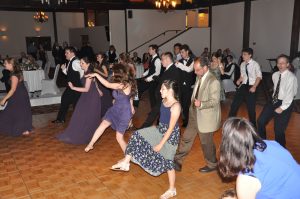 All photos in this blog post by And We Danced DJ Entertainment. Copyright © 2017. All rights reserved.