And We Danced DJ Entertainment had the privilege of providing sound and entertainment for the Hohol-Lorenz wedding this past summer. Maggie Hohol met Mitchell Lorenz while they were working together. They hit it off, and on Saturday June 24th, their wedding ceremony and reception were held at Earlystown Manor. The bride wore a beautiful white mermaid style gown with a hint of gold. She chose mint, champagne, gold and pink as her colors.
The Mifflintown, PA mayor, Roxann McGinnis, was the officiant with Danielle Reighter and Abby Saner providing the bridal flowers for the ceremony and reception. Linda Hummel of Linda Hummel Photography was on hand to snap photos of the happy couple, family and friends.
And We Danced DJ Entertainment provided emceeing and music for the Lorenz's ceremony and reception. Maggie and Mitch began their night dancing with Neil Young's Harvest Moon and continued dancing, singing and mingling until the very end. At the end of the night, Diana Steel, Mitch's mother, thanked And We Danced DJ Entertainment for a great time!
Congratulations Mitch and Maggie! And We Danced DJ Entertainment had a totally awesome time as their wedding DJs!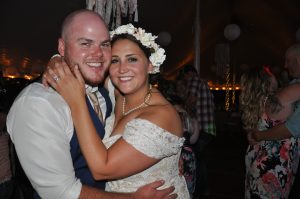 The happy bride and groom!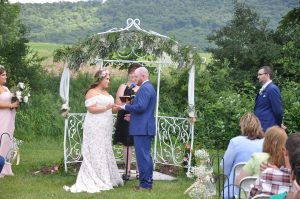 Getting married!
Getting down!
All photos in this blog post by And We Danced DJ Entertainment. Copyright © 2017. All rights reserved.