The 2018 Pennsylvania Special Olympics Summer Games is now a fond memory to the athletes, families, coaches, planners, vendors and volunteers. And We Danced DJ Entertainment had an awesome time providing music for all of the wonderful people traveling through the Olympic Village at the Summer Games on the Penn State University Park campus May 31st, June 1st and June 2nd. Not only were the Special Olympians dancing on the sidewalks, but coaches and family members were getting into the groove. The Pennsylvania Special Olympics committee needs to set up a dance competition in next year's Olympic games for the many athletes busting a move traveling to and from their event or relaxing at the Olympic Village!!
The BB&T Nookie Monster, Ike the Spike and Eat 'n Park's Smiley mascot were on hand dancing, shaking hands and posing for pictures with all travelers through the Olympic Village. Many super heroes stopped by to say hello and pose for pictures with the Olympians, their coaches and family members while traveling to their next assignment. Eat 'n Park had smiley cookies available for all to eat and enjoy.
This is the 49th year for the Pennsylvania Special Olympics. Over 2,000 athletes compete in the PA Special Olympics each year. Athletes compete in three full days of aquatic, athletic, basketball, bowling, equestrian, golf, gymnastics, softball and tennis competitions. Competitors must be at least 8 years old to compete and have one of the following conditions: intellectual disabilities, formal assessment measured cognitive delays, significant learning disabilities, or vocational problems associated with cognitive delays requiring specially designed instructions. Local representatives can provide more details on how to become involved and participate in various Special Olympic events.
This is the second year that And We Danced DJ Entertainment had an opportunity to provide great music for all the Olympians and their families, and we look forward to again making the Olympic village lively and festive as the Special Olympics celebrates its golden anniversary next year! Thank you Special Olympians for dancing, talking and showing us your medals of achievement!!
See you again next year!!!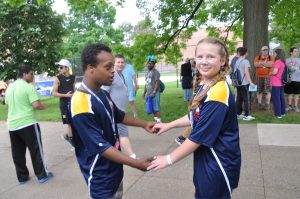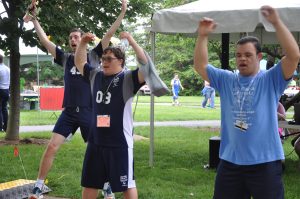 All photos in this blog post by And We Danced DJ Entertainment. Copyright © 2018. All rights reserved.