And We Danced DJ Entertainment had the opportunity to provide music for the recent 2018 Fit For Fritz fundraiser, where a walk-a-thon, dodgeball tournament, and fun games were held at the Penn State multi-sport facility. The fundraising event is in honor of Fritz Spence, assistant track and field coach at Penn State, who was diagnosed twice with acute myelogenous leukemia (AML) but has twice battled the disease and is today in remission. Each year, the Penn State Track & Field athletes raise money in honor of Fritz Spence and donate the proceeds to Hope Lodge.
Hope Lodge is a facility funded by the American Cancer Society for cancer patients and their families throughout the United States. It provides a cost-free-living environment for cancer patients and their families in their time of need. The money raised each year during the Fit For Fritz event is donated to the Hope Lodge located in Hershey, Pennsylvania. This is the facility Fritz and his family spent a great deal of time at while receiving his treatments.
The event started with the singing of the national anthem by Elyse Skerpon, a junior on Penn State's Track and Field roster. Fritz then began the walk-a-thon with the firing of the gun. The gun didn't want to fire, but Fritz finally got it working! The participants did eight laps around Penn State's indoor track field located in the multi-sport facility. Once the eight laps were completed, groups began to play cornhole, shoot some baskets, sign up for the dodgeball tournament, and play some fun games. The dodgeball tournament was a big hit with participants. Many groups signed up to play in the event. The tournament didn't conclude until the final 15 minutes of the event. Coach Spence even made a guest appearance behind the DJ booth!
Everyone present at the event had the opportunity to register and be a bone marrow match for someone in need. There were also theme baskets. A person could purchase a ticket and place the ticket in the ticket carrier located in front of the theme basket they personally wanted to win. Winners were announced at the end of the event.
Thank you Fritz and Penn State's Track & Field athletes for allowing And We Danced DJ Entertainment to be a part of your fundraising activity.
And We Danced DJ Entertainment is looking forward to next year's Fit For Fritz fundraising event!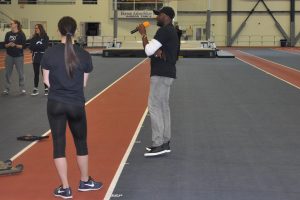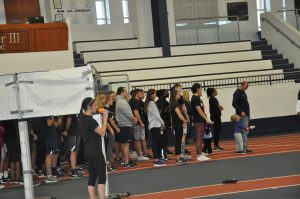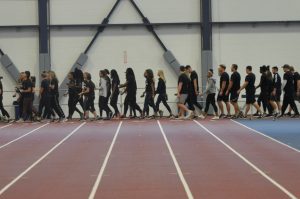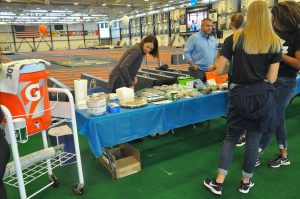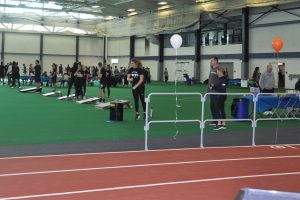 All photos in this blog post by And We Danced DJ Entertainment. Copyright © 2018. All rights reserved.