The fast-paced summer tour continued for And We Danced DJ Entertainment at the Ramada Hotel & Conference Center with the marriage of Dwayne Smith and Beth Stover on Saturday, June 16, 2018. Beth wore a stunning taupe colored lace dress accented with sequins. Her matron of honor wore a similar lace dress accented with sequins in a dark tan color. Dwayne wore a dapper gray suit while his best man sported a navy blue suit for the occasion.
Beth and Dwayne chose orange and purple as the color theme for the day. Balloons decorated the walls and tables, and a gold balloon "congrats" sign appeared on the wall behind the bridal party table. The bouquets, boutonnières, and table arrangements were designed by the neighbor of the groom and featured a remarkable blending of white to orange flowers.
The newlyweds started the night dancing to "We've Only Just Begun" by the Carpenters. They had both graduated in the early seventies and wanted the music for the night to feature sixties and seventies music melodies. And We Danced led the festivities for the bouquet and garter toss. No ladies or men wanted to admit that they were single. Dwayne and Beth helped And We Danced target the single ladies and men in the attendance. A young woman caught the bouquet. The photographer, a relative of the groom, caught the garter. When it came time to place the garter on the young woman, we found out that the young woman was the photographer's daughter. Instead of placing the garter on the leg, the garter was placed on the young woman's arm!!
The night was spectacular and featured tons of fun! And We Danced played a memorable song for Dwayne's oldest living relative that was in attendance that night. He appeared on the dance floor dancing with his relative. Many guests captured pictures and video of the event.
Thank you Dwayne and Beth for inviting And We Danced DJ Entertainment to be the entertainment and emcees for your wedding reception!!!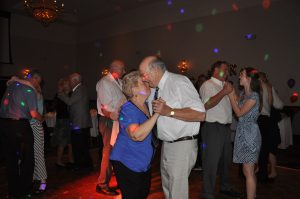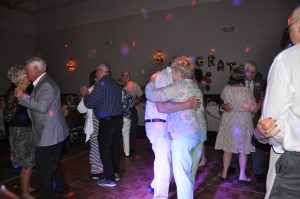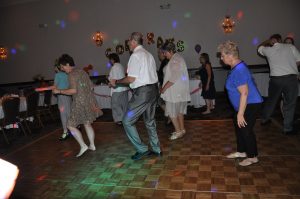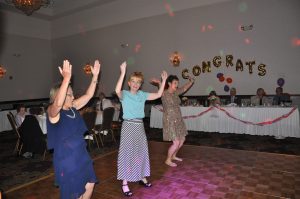 All photos in this blog post by And We Danced DJ Entertainment. Copyright © 2018. All rights reserved.